Howdy, howdy!
My kids and I went to see the San Diego Padre's play the Minnesota Twins last Wednesday.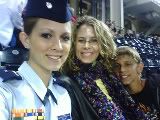 We had a lot of fun even though the Padre's lost. My daughter is a Cadet/2nd Lt. in the Civil Air Patrol, an AWESOME youth program (hence the Air Force uniform). The young man on my left is my son.
I'm getting ready to celebrate the 4th of July by planning a fun day at the beach with my husband, mom, and two of my kids. What are you planning for this three-day holiday weekend?
Need Help with QuickBooks Enterprise Solutions
QuickBooks Premier
or QuickBooks Pro?
Contact me
 today. I offer complete bookkeeping services, as well as QuickBooks consultations and training for these awesome products.
Today's Article
Today we'll discuss one of my favorite features of QuickBooks Enterprise Solutions…. the ability to completely customize each user's permissions.
But first let's talk about user permissions in QuickBooks Premier and Pro. If you use Enterprise, you might have started with Premier or Pro. Did you know that Enterprise is very different and much more enhanced than either of the two other programs?
About User Permissions in QuickBooks Premier & Pro
"User Permission" means the ability for you to add or restrict access to certain areas of your QuickBooks file for each user.
QuickBooks Pro and Premier both allow for different "levels" of user permissions. These are broad categories for each of your users. When you are setting up a new user in Pro or Premier, you are first asked to give that user a name and a password.
Next you are asked, "What do want this user to have access to?" You can select "Selected areas of QuickBooks," or "All areas of QuickBooks."
If you choose "Selected areas of QuickBooks," you are then taken through about nine different areas of the software such as Sales & Accounts Receivable, Purchases & Accounts Payable, etc. In each of these you can choose "No access," "Full access," or "Selective access."
The "Selective access" can be further broken down to categories such as, "Create transactions only," "Create and print transactions," "Create transactions and create reports." Then you are shown a review screen and asked to "Finish" the setup for that user.
These choices might sound rather "granular" or refined…
But remember, we're still talking about Pro and Premier. These choices do not hold a candle to what QuickBooks Enterprise Solutions offers.
User Permissions and Roles in QuickBooks Enterprise Solutions
In Enterprise, the whole user-setup process is different.
Not only can you set up new users, but each user can have one or more fully customizable "Roles." To see the Role List, follow this path in Enterprise:
Company > Users > Setup Users & Roles > Click the tab called, "Role List."
You will see an entire list of roles, such as Accountant, Accounts Payable, Accounts Receivable, etc.
Existing Roles Can Be Edited…
Here's the really cool part: highlight one of the roles, then click the Edit button. The Edit Role window opens.
You'll see a Description for the role, as well as an area called, "Role Access." Under this is an area called, "Area and Activities."
Notice each area. There is a plus sign (+) next to each. Click it. It opens to even more detail for that area. A filled-in circle means "full access". A partial circle means "partial access" or "mixed access," and a hollow circle means no access.
The "partial" or "mixed" access can be further broken down according to the area on the right of this screen, labeled Area Access Level.
Talk about granular! I think it's amazing at how finely tuned each role is, MUCH more so than with Premier or Pro.
… But Don't Edit Roles Right Away
Suggestion: do not make any changes to the roles yet, until you are comfortable with them as they are. Changes you make here effect the role and each user assigned to it.
Or, You Can Create Brand New Roles
Here's another cool thing: you can set up a brand new role with permissions exactly as you want them.
For example, when I get a new client who uses Enterprise, I create a brand new role called Secondary Admin. I give it Full Access to every single area possible. I then create myself as a user, and assign that role. This allows me to work in the file with almost complete Admin capacity without using the Admin signin.
Here's More Help for QuickBooks Enterprise
If you need help with bookkeeping or QuickBooks, I'd love to hear from you. Contact me and let's talk about how to make your life easier.

Jennifer Thieme
Certified QuickBooks Pro Advisor